The DHH-RERC has posted time-tested guidelines for running virtual meetings with people who are deaf or hard of hearing. That includes meetings where everyone signs. We also cover meetings with a mix of signers and non-signers.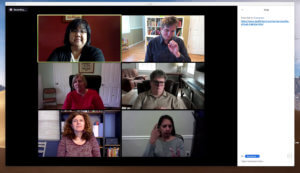 People who are deaf or hard of hearing face many barriers with access to virtual meetings. These barriers now have to be addressed with renewed urgency because of the COVID-19 pandemic. Fortunately, there are some relatively simple changes that we can make to the way we run meetings. By implementing them, we can make an immediate difference for our deaf and hard of hearing coworkers.
Overall, consider these guiding principles:
Keep meetings as small as possible
Have well-defined roles in running the meeting, especially for larger ones (e.g., chair, turn-taking manager, note-taker)
Have well-defined communication rules
Turn-taking management is critical
In larger meetings, default to video off except for chairs, interpreters, turn-taking manager, and people who have the floor
Get a second screen, if at all possible
Run Ethernet cables instead of WiFi, if at all possible
Check out our detailed guidelines for more information. Also check out Catharine McNally's related accessibility tips, and Jo Wootten's tips for British Sign Language.
The RERC will update these guidelines to cover additional scenarios in the near future. So, check back often, and drop us a line at virtualmeetings@deafhhtech.org.