Overview – Training Video – Download – Instructions – Development – FAQs – Contact

Speech tracking is a clinician-directed technique used to improve auditory perceptual skills. This software is a sentence-level speech-perception training program designed to help the client develop awareness of sensory information, contextual evidence, and improve auditory listening skills.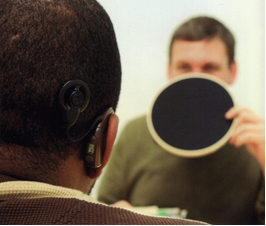 KTH Speech Tracking is an easy-to-use approach in which a story is read by the clinician a line at a time, requiring the client to repeat it back verbatim. Specific directions guide the clinician's presentation, repetitions, and ensure that feedback is provided throughout the training process, which is key to building both communication skills and confidence. Using KTH Speech Tracking Software enables the clinician to control the presentation of material and easily track an individual's performance in a systematic way. 
We offer a training video, download, instructions, and information about the development of KTH Speech Tracking Software.